How to sew a canvas tote bag? Are you looking for an easy and fun project to do, like making your own bag?
Sewing a canvas tote bag can be a great activity for people of all ages to learn and make something useful! Sewing is not only practical but also beautiful. Unsurprisingly, it has seen a resurgence in recent years.
One of the easiest and most common forms of sewing is making a tote bag with canvas fabric. This type of bag is popular because it is stylish, durable, and reusable – perfect for everyday use or special occasions.
Making your own canvas tote bags isn't as hard as you might think — all you need are basic sewing skills, some good-quality materials, and simple tools you already have (or can find) lying around the house.
In this article, we'll walk you through how to make a stylish canvas tote bag in six simple steps –from picking the right fabric to putting on the finishing touches.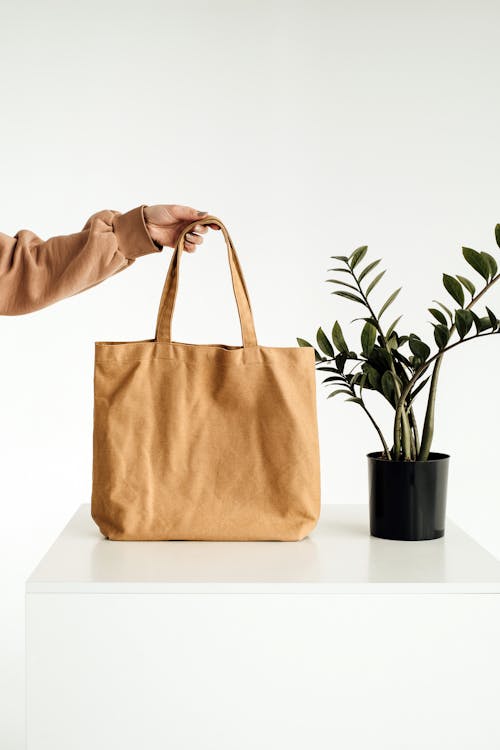 How to Sew a Canvas Tote Bag?
Sewing your own tote bag is a fun way to show off your creativity and make something unique and useful. And with just a few supplies you can have a great looking, reusable canvas tote bag in under an hour!
Here's how:
1. Gather Materials
To begin sewing your tote bag, you'll need some canvas fabric, heavy-duty scissors, thread and needle, iron or small handheld steam press, tearaway stabilizer, tailor's chalk or marking pen and fasteners such as Velcro or snaps.
2. Cut Out Pattern Pieces
First … lay out your canvas fabric and trace the pattern pieces onto it using tailor's chalk or marking pen. Make sure all of the pattern pieces are transferred accurately before cutting them out with scissors. If needed, mark additional lines such as seams or side panels on the fabric to create the desired shape for the bag.
3. Iron Canvas
Before assembling your pieces together it's important to give them a quick press with an iron. This will remove any wrinkles from the fabric so that it lies smooth when sewn together later on. Set your iron on low/medium heat and place a pressing cloth over top of each piece as you flatten them out one by one.
4. Sew Seams Together
Once all of your pattern pieces have been cut out and pressed flat it's time to start sewing them together! Using needle and thread (or if preferred – a sewing machine ) sew along the edges first then down the sides so that all of the seams are complete before doing any topstitching. Be sure to leave enough room at the opening of your bag where you'll add in some fasteners later on!
5. Add Fasteners
The best way to close up your bag is by adding either Velcro strips or small snaps along its opening edge – depending on what type of look you want for it! Start by stitching one half of either closure method into place along each side seam (use tailor's chalk or pin first as guidelines). Then cover these stitches with some fusible webbing material before attaching their counterparts on top for added strength & durability against wear & tear over time!
6. Steam Bag Openings
Finishing touches can be made after all other elements have been completed – like steaming open each seam allowance so they appear nicely pressed against the main body of your new canvas bag (especially those enclosing any fasteners!).
Use either an iron set on "high steam setting" or handheld steamer device right over areas needing attention & let set until dry before further use/wear!
Conclusion
Creating a canvas tote bag is an inexpensive and satisfying project that anyone can do. Whether you are a beginner or more experienced in seamstress, follow these steps to create an attractive and sturdy tote bag. Buy the right materials, follow the correct steps, and don't be afraid of making mistakes – it is part of learning!
Enjoy sewing up your canvas tote bag and using it with style.